What Fuels a Fanatical Sports Parent
New York Times
January 12, 2021
"If the coach wants to win more than his or her team does, that's a problem and the team is doomed to fail," says the longtime coach of my 15-year-old son's hockey team. Rich Cohen might understand. In Cohen's thoughtful, lively new memoir, "Pee Wees: Confessions of a Hockey Parent," the coach-player relationship is almost as important as the parent-child dynamic.
Comic and "The Daily Show" writer John Hodgman pauses at midlife to take a look around.
Star Tribune
October 31, 2017
"I am a straight white man, the hero of almost every story I had ever encountered," writes actor and humorist John Hodgman in his introduction to "Vacationland" — a hilarious and irreverently sincere collection of personal essays. "The idea that the world could continue without me was not only unimaginable, it was insulting."
Memoir reveals the seeds of writer's novels as she delves into her family's past.
Star Tribune
October 13, 2017
"While writing this memoir, I was conscious that much of what I think I remember is inaccurate, guessed at, or biased by experiences that came later." And in this honest, thoughtful, at times meandering memoir, Tan reconciles those memories with events throughout her life.
Music is an essential element in Tan's world, from her early years when her parents made her study piano with the expectations that she'd become a concert pianist, to now, when she regularly attends orchestral performances.
Musician and activist spins a fantastic history of a little known but influential British musical form of 1950s.
Star Tribune
July 14, 2017
"Skiffle exists in the dead ground of British pop culture, and between the end of the war and the rise of the Beatles," writes musician Billy Bragg in this fantastic history of a little known though immensely influential musical form, played with basic instruments such as guitar, bass (stand-up or homemade from a broomstick and tea box), drum kit and washboard.
How George Plimpton's Sports Books Presaged the First-Person Media Age
Vanity Fair
April 27, 2016
A framed menu from Toots Shor, the famed Midtown New York saloon and restaurant, once hung on the wall above the desk of George Plimpton, the patrician writer and Paris Review founder whose name became synonymous with "participatory journalism."
For decades the restaurant had been a hangout for celebrities—Frank Sinatra, Jackie Gleason, Charlie Chaplin, Joe DiMaggio, and Marilyn Monroe. Plimpton's menu, from the winter of 1967, advertised a shrimp cocktail for $2.25 and an order of chopped chicken liver for $1. At the top of the menu, a handwritten poem, scrawled on the back of another menu, had been pasted...
bookcritics.org
March 11, 2016
"Most dance arises from an interaction between music and movement," Seibert writes in the introduction to this entertaining and expansive history. "But because tap can be both dancing to music and dancing as music, it's especially concerned with the combination."
Seibert takes readers deep into the history of tap dance—an art form as amorphous as ballet is regimented. There are no traditional establishments in tap dancing as there are in other dance forms—no American Ballet Theatres, no Merce Cunninghams, no schools that farm boys and girls through a system. In a way, tap dancers are outliers of dance. They learn by watching—sometimes "stealing" from—others, then incorporating their own movements into the work. Tap is very much like jazz music, and very American.
The Los Angeles Times
February 12, 2016
Chris Offutt places his literary beginning at age 9, when his father gave him his worn copy of "Treasure Island." But his powerful, gracefully written memoir "My Father, the Pornographer" shows that it was something he was born into.
Offutt's father, Andrew Jefferson Offutt V, published approximately 400 pornographic pulp novels (plus six science-fiction books, a thriller and 24 fantasy novels) under 18 pseudonyms. He often churned out a book a month, with titles like "The Sexorcist," "Diana's Dirty Doings" and "The Girl in the Iron Mask" (Vols. 1-8). His wife, Chris' mother, typed every one.
The New York Times
November 7, 2014
We've all been there at some point. Feeling a little out of place, unnoticed. If we were lucky, perhaps we met someone who, though very different, complemented us. Maybe we met a Jim and, like Huck Finn, left our familiar though confining small town; maybe we were Maude seeking companionship in a boy named Harold; maybe we were Joe Buck, the midnight cowboy in a city that never sleeps, who befriended the lowliest of the low, Ratso Rizzo.
Four new picture books tell stories about friends who vanquish loneliness. In the warmly illustrated "Little Elliot, Big City," a lap-dog-size elephant named Elliot finds difficulty negotiating a metropolis — in his case, a glamorous 1940s New York City. He has trouble turning door handles, which he can barely touch with his trunk, and reaching into his freezer for food, which he pushes out with a broomstick. He can't catch a cab; one splashes him as it drives through a puddle. What Elliot really wants is a cupcake — but the attendant at the bakery doesn't notice him. In fact, no one notices this tiny elephant, despite the fact that he is white with blue and pink polka dots (he's a precursor, in a way, to Joe Buck, whose cowboy hat and shirt barely catch the attention of New Yorkers).
NPR
July 20, 2014
I remember taking an intermediate Italian class in college, and to gauge our linguistic level of proficiency, the professor assigned us a short essay to write. Using the Italian I had picked up from my grandparents, I proudly wrote about my familial ancestry in Calabria. The essay came back with every other word circled in red and labeled "dialetto."
"In this class," the professor said as he picked up the paper from my desk, "we will learn the proper Italian language of Dante." At that moment, I felt at once robbed of my Italian heritage, and ashamed of my Calabrian ancestry.
PWxyz
November 14, 2013
I don't think it's just because I spend six days a week on the ice playing hockey or coaching my son's travel league, and am therefore more aware of hockey books—but this season I've seen many more than usual.
PWxyz
October 31, 2013
Nowadays, food writing seems to have reached high decibels—everyone clamoring to be heard, everyone filling his or her sentences with bold, exciting ways to describe a restaurant experience, a piece of meat, a once downtrodden vegetable.
The pace is furious, and the virtual din can resemble the kitchen of many a hot New York City restaurant on a Saturday night. The bigger the chef, the faster the tempo. There is little time to think, to take a step back.
A Report from the 2013 Paris Cookbook Fair.
For a book fair devoted exclusively to cookbooks, you'd be hard-pressed to find a better venue than, say, the Louvre Museum.
And that was the case this past weekend when that the Paris Cookbook Fair took place in the Carrousel du Louvre, below the Pyramid.The fair brought in nearly 3,000 attendees to visit 102 booths of publishers, writers, and agents.
My father, like many who raised kids in the 1960s and '70s, would never have thought to reach for a book on parenting. No matter how engaged he was in our lives, he always deferred to "the expert" — our mom. These days, however, it seems more and more fathers are writing books about fatherhood, and this year the sheer number of them suggests a generational watershed.
The voices in these volumes are all over the map, as if men aren't quite comfortable yet in this genre. It seems to me, though, that these books can be broken down into four categories: the dad as coach; the hip and witty dad; the dad as participatory journalist; and the heavy hitters.
Twenty years ago, a friend handed me a collection of short stories called Stories in Another Language by Yannick Murphy. Her voice was spare and taut, and her themes were largely family and death, as I recall. It was a slim book, but the stories resonated beyond the pages.
The Call (Harper Perennial), Yannick Murphy's newest novel, is also slim, spare, uniquely structured—and absolutely beautiful.
In a celebratory National Book Awards on Wall Street last night, Stephen Greenblatt took the nonfiction award for Swerve, while, in a surprise turn in fiction, Jesmyn Ward won for Salvage the Bones.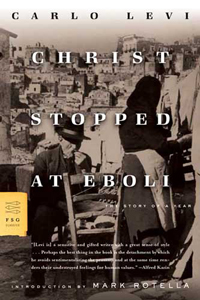 By: Carlo Levi
Farrar, Straus and Giroux, 296 pp., $14.00
January 2006
Introduction by MARK ROTELLA
St. Petersburg Times (Florida)
October 24, 2004
DREAM STATE: Eight Generations of Swamp Lawyers, Conquistadors, Confederate Daughters, Banana Republicans, and Other Florida Wildlife
By Diane Roberts
Free Press, $25, 368pp
Chicago Sun-Times
August 29, 2004
The Food of Love
By Anthony Capella
Viking, $21.95
The Washington Post
July 18, 2004
The Food of Love
By Anthony Capella
Viking, $21.95
Village Voice (New York, NY)
May 9, 2000
Take the Cannoli: Stories From the New World
By Sarah Vowell
Simon & Schuster, $23
Village Voice (New York, NY)
January 11, 2000
Getting Naked with Harry Crews
Edited by Eric Bledsoe
University Press of Florida, 365 pp., $24.95
Village Voice (New York, NY)
March 16, 1999
Sinatraland
By Sam Kashner
Overlook Press, 192 pp., $22.95